"Keep your feet on the ground, and keep reaching for the stars."  That signature sign-off of Casey Kasem's was recalled by fans of his syndicated weekend radio show "American Top 40″ Sunday after the legendary disc jockey died at the age of 82. Kasem began that show in 1970 and hosted it and variations of it until finally ending his radio career in 2009.
Even though we know he is in a better place and no longer suffering, we are heartbroken. Thank you for all your love, support and prayers. The world will miss Casey Kasem, an incredible talent and humanitarian; we will miss our Dad.
With love, Kerri, Mike and Julie. ~Kerri Kasem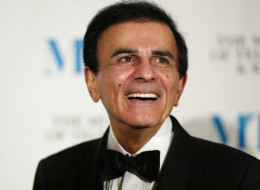 Casey Kasem died Sunday morning, June 15, 2014 at 3:25 am at St. Anthony's Hospital in Gig Harbor, Washington. The legendary broadcaster was taken off life support at age 82.  Daughter Julie Kasem will host a memorial celebration at her Northridge, California, home on Saturday, June 21, the family member said.
Kasem was already a popular disc jockey in Los Angeles when he became the host of "American Top 40″ in 1970. The syndicated show, which counted down the 40 most popular songs in the United States based on Billboard magazine's Hot 100 music chart, began on just seven radio stations but quickly became a mainstay of thousands, all around the world. Kasem, whose baritone was always friendly and upbeat, delivered these in his most sympathetic voice, warm enough to melt butter. "Dear Casey," he began, and would read an emotional letter from a listener who wanted to connect with an old flame, express regret to a new love or send wishes to a far-flung family member.  "The magic of Casey is that he is the ultimate professional in whatever he does…. He enlightens, he explores, he suggests, he provokes and he informs," fellow DJ Gary Owens told Billboard in 1997.
"It's so simple: what do people love?" Kasem said to the New York Times in a 1999 article. "Plato said it best. 'People who tell the stories rule society.' And we tell the stories, and people love to hear the stories. Of course, we've got tremendous responsibility to become accurate with those stories. And in most cases to be wholesome."
On Sunday, the "AT40″ website posted a tribute to Kasem. The site for the program, now hosted by Ryan Seacrest, included audio clips of Kasem on the show throughout the years.  Ryan Seacrest, who took over Kasem's American Top 40 show in 2004, paid tribute to his idol in a statement.
"It's a sad day for the broadcasting community and for radio listeners around the world," said Seacrest, 39. "When I was a kid, I would listen to Casey Kasem's AT40 show every weekend, and dream about someday becoming a radio DJ. So when decades later I took over his AT40countdown show, it was a surreal moment."
Source: CNN